April 28th, 2010 by Richy B.
No comments »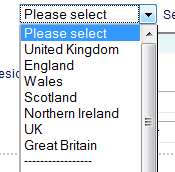 Today whilst filing my annual return for Companies House, I was asked to select my Country/State of residence (because, you know, having a UK company listed on the England/Wales Companies House with a registered address in the UK and my service address being in the UK wasn't enough of a giveaway). Not a problem thought I, so I clicked on the drop down list to be presented with:
United Kingdom
England
Wales
Scotland
Northern Ireland
UK
Great Britain
WTF? I could understand if it listed England, Scotland, Wales and Northern Ireland separately (as technically they are different countries), but to list them AND "United Kingdom", "UK" (is there a difference between those two?) and "Great Britain" just got me confused. I live and work in London, England, in Great Britain part of the "United Kingdom of Great Britain and Northern Ireland" commonly shortened to just "United Kingdom" or "UK". So which should I pick….