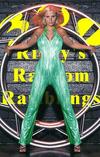 Yippeee! Post 300 AND the "end of month" summary time: what a co-incidence!
Ok, ok – for the past few weeks, I've been blogging like made to try and make the two correspond – and it seems to have had a side affect of launching "Guess That Movie" which I'm "spinning off" onto it's new website when I get time. In fact, to give myself time to do all that coding (database design is mocked up, some of the data is imported, and a brief website design has been completed) – I'm going to be "absent from blog land" until Monday.
Yep – no more posts from me after this one until sometime Monday (3rd February) morning.
Oddly enough, when I passed the 200th blog entry mark it was snowing – and as I'm just passing the 300th mark now – it's decided to snow again!
Anyway – on with the stats.

During January I had a total of 92,154 hits (up from 58,539 last month) or 10,999 visits (up from 7,395) – that averages out at 2,972 hits/354 visits a day (up from 1,881 and 238 last month). This month has seen a whopping 979,108Kb of traffic to the 299 entries and 246 comments (up from 670,540Kb traffic to 175entries and 47 comments last month).
The following stats do not include articles/entries when they are displayed on the front page.
Most popular pages
Yahoo goes to the top of my referral chart with 92,154 visits from there (compared to just 626 last month), Google with its 4,880 referrals (compared to last months 2,864) got knocked down into second place. 158 people found my site via Technorati (up from 117), then it was blo.gs with 126 visitors and then Blogdex with 124 visitors. On the blogging related front: 72 people also found my site from the front page of Movabletype.org, 43 from Gamers Nook, 40 from a entry on Randy Rathbun and then came Neil with 38 visits.
Popular Search Terms
I'll have to see if I can automate those lists by next month – there are quite a few "similar" search terms which should really be counted as the same thing.
Most unusual search terms? "yasser crackafat" (8th out of 22 in Google), "villaroel lisa" (3rd out of 223), ware to find a slurpee machine (7th out of 23), "udate prison boss affair" (no matches on Google) and "the order-of-the-phoenix leaked copy" (which actually linked to my write up of the "Google Dance").
I currently have 16 categories set up with the following post count: "Net: Games" (33), "Life: Personal" (32), "Snippet" (29), "Net: Jokes" (27), "Net: Fun" (24), "Guess That Movie" and "Net: Blogging" (20), "Net: General" (16), "Life: Work And Techy" (15), "Life: News Commentry" + "Net: Spam" (13), "Life: TV and Movies" + "Net: ODP Life" + "Net: Polls" (11), "Net: Weird" (10), "Net: Memes" (9) and "Life: Books" (8).
My "busiest blogging week" was the 10-Nov-02 to 16-Nov-02 week with 40 posts, but the19-Jan-03 to 25-Jan-03 (last week) with 34 posts was quite close behind.