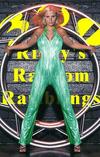 Yippeee! Post 300 AND the "end of month" summary time: what a co-incidence!
Ok, ok – for the past few weeks, I've been blogging like made to try and make the two correspond – and it seems to have had a side affect of launching "Guess That Movie" which I'm "spinning off" onto it's new website when I get time. In fact, to give myself time to do all that coding (database design is mocked up, some of the data is imported, and a brief website design has been completed) – I'm going to be "absent from blog land" until Monday.
Yep – no more posts from me after this one until sometime Monday (3rd February) morning.
Oddly enough, when I passed the 200th blog entry mark it was snowing – and as I'm just passing the 300th mark now – it's decided to snow again!
Anyway – on with the stats.