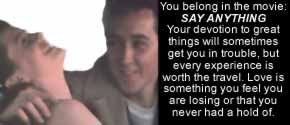 Antgrad's done it, Scott's done it now it's time for an educated flea to do it… Let's do it – let's find out which movie I belong in… Hang on – that's not how the Cole Port

song goes!
Anyway – according to the quiz, I should be in the movie Say Anything…

amazoncom:B00003CXCI . One of the few movies I haven't seen or heard about before….